I'm a film student, I love any camera I can get my hands on, and I love the spaces outside cities untouched by development where plant and animal communities thrive and rocks shape the landscape.
Early life: I grew up among the rolling hills and vast expanse of the Shawnee National Forest in Southern Illinois and learned to love the trails, trees, creeks and lakes that dot the territory. My favorite memories from childhood are spending weeks at Boy Scout camps learning outdoor skills. When my family moved to Las Vegas around the turn of the millennium, I began to love these open skies, deserts mountains and valleys in the Mojave and Great Basin.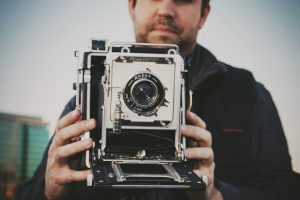 My love for natural spaces became the motivation for my work in activism, photography and filmmaking for the past decade. Early in my photographic work I became attracted to the process and results of using film instead of digital cameras, particularly black and white large format film.
Here on this website you will find my perspectives on film, art, deserts, nature, humanity and life.
I am currently finishing a degree in film at Nevada State and run a small creative agency called Most Media based in Henderson/Las Vegas, Nevada, that specializes in website design, photography, video production and graphic design.
Prints
Contact me if you are interested in obtaining either digital or analogue prints of any of my work.